NEW YORK, August 13, 2020 — Vesta Healthcare, a 24/7 technology and clinical services organization, dedicated to supporting caregivers and connecting their insights to the rest of the care team, announced today that CB Insights named them to its second annual Digital Health 150 ranking. The Digital Health 150 showcases the 150 most promising private digital health companies in the world. 
The 2020 Digital Health 150 cohort highlights startups that are reimagining the lines of the traditional healthcare experience across 12 categories, from Virtual Care Delivery and Clinical Trials, to Drug Discovery and Specialty Care. Countries represented this year include Canada, China, Israel, France, the United Kingdom, and the United States, among others. 
"This year's Digital Health 150 is our most global ever, covering the best private healthcare companies from 17 countries. Beyond geographic diversity, these companies are innovating across the entire healthcare value chain, spanning technologies that benefit pharma & biotech companies, to payers, hospitals, insurers, and more," said CB Insights CEO Anand Sanwal. "Last year's Digital Health 150 winners saw numerous exits and went on to raise nearly $5 billion in investor financing after being recognized. We look forward to seeing the success of this year's class of the best in digital health." 

"We are honored and humbled to be included in this list of innovative, industry-leading digital health companies. Vesta Healthcare is built on the belief that connecting caregivers to care teams through easy-to-use technology and consumer-centric experience creates better health outcomes," said Randy Klein, Vesta Healthcare's CEO. "The COVID-19 pandemic has highlighted the disparities in healthcare access and delivery, and the highest-need populations are disproportionately affected. Through our digital tools, clinical intelligence platform and personalized engagement, we are demonstrating the enormous impact and value that virtual care platforms can have in enabling high quality care for those who need it most."  
Through an evidence-based approach, the CB Insights research team selected the Digital Health 150 from hundreds of applications based on several factors including patent activity, investor quality, news sentiment analysis, proprietary Mosaic scores, market potential, partnerships, competitive landscape, team strength, and tech novelty. The Mosaic Score, based on CB Insights' algorithm, measures the overall health and growth potential of private companies to help predict a company's momentum. 
Vesta Healthcare's program serves as an early warning system to support preventative intervention and avoid unnecessary hospitalizations and other health events that may reduce people's ability to age safely in their homes. COVID-19 has created more challenges for members to receive traditional in-person or in-home care, making it more important than ever for high-risk populations to have access to clinically intelligent and easy to use digital health programs like Vesta. 
Vesta Healthcare enables clinicians to work with members, primary care and caregivers to create a personalized, home-based intervention plan based on a member's health history and current conditions. This risk-based profile creates an individualized set of interventions to address common trends or "red flags" in health status. The ongoing chronic care management program guides caregivers, including professional home care aides, family members, friends, or the members themselves, through a series of daily questions targeted at specific health conditions and healthy activities. Vesta Healthcare also checks for needs around food, anxiety, social isolation and other personal needs. In addition, the program includes remote patient monitoring to detect real-time changes to relevant vital sign readings.
Real-time health alerts are sent to caregivers and clinicians, notifying them of changes in the behavioral or functional status of the member based on data collected by the app and RPM devices. The platform integrates simple-to-use telehealth video visits between members, their caregivers and clinicians to ensure timely and coordinated care from the comfort of home. 
Vesta Healthcare announced earlier this year that it had closed on a $30 million Series A, co-led by Oak HC/FT and Deerfield Management Company and including investment from Kaiser Permanente Ventures, Lux Capital, Generator Ventures, CareCentrix and Nationwide Ventures.
The Digital Health 150 Companies: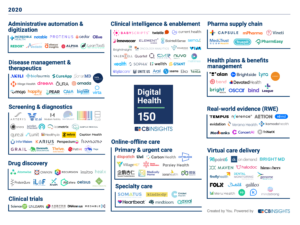 The 2020 Digital Health 150 startups have raised over $20B in funding across 600+ deals from 900+ unique investors.

The list includes 12 unicorns (companies that have reached a valuation of $1B+) focused on a diverse range of digital health solutions, including telehealth, insurance, and robotic surgical systems.
About CB Insights
At CB Insights, we believe the most complex strategic business questions are best answered with facts.  We are a machine intelligence company that synthesizes, analyzes and visualizes millions of documents to give our clients fast, fact-based insights. Serving the majority of the Fortune 100, we give companies the power to make better decisions, take control of their own future, and capitalize on change.
About Vesta Healthcare
Vesta Healthcare is an industry-leading technology and clinical services organization, dedicated to connecting caregiver insights to the rest of the care team. Vesta Healthcare proactively identifies the need for additional resources in the home and provides 24/7 telehealth support for caregivers and care recipients, with a focus on high-need, frail senior populations. Vesta partners with home care agencies, health plans and providers to create value-based population health programs that emphasize clinical quality, improved health outcomes and personalized engagement. To learn more visit www.vestahealthcare.com and follow us on LinkedIn and Twitter.
Contact:
Cait Kennedy, Head of Strategy & Growth
646-757-1851